A referral of your patient, or client, benefits their care and case
Why you should consider us as your chiropractic physician

At Joint Maneuvers Chiropractic Centre, P.A. in Saint Cloud and Lake Nona, Chiropractic Physicians Dr. Brett Petty and Dr. Steven Petty treat patients for injuries resulting from automobile crashes. Drs. Petty possess close to two decades of experience in med-legal care.
Drs. Brett and Steven Petty have extensive knowledge in med-legal patient care and case management. Med-legal care refers to treatment and management of personal injury patients, such as treatment of injuries resulting from motor vehicle collisions or slip-and-falls. Med-legal also refers to treatment of 'on-the-job injuries' which fall under worker's compensation. Their experience in med-legal cases in the State of Florida dates back to 2001. Since 2001 they have treated thousands of Central Floridians who were injured in car crashes, slip-and-falls or injured on-the-job.
Drs. Petty both hold Advanced Certifications of Competency in Whiplash and Brain Injury Traumatology with The Spine Research Institute of San Diego. Graduates of this program have received the most in-depth, science-based training available today. The program covers the entire spectrum from the physics of motor vehicle crashes to human biomechanics to diagnostics and management. They have also attended The Annual Spine Research Institute of San Diego Scientific Conference in Coronado, California on multiple occasions.
Med-legal patients often have retained legal representation and, since 2001, Drs. Petty have managed and treated patients represented by almost every major law firm in Central Florida. Drs. Petty utilize clinical studies, physical exams and functional history of the individual patient to determine if permanent injury exists. In cases where permanent injury is a factor, Drs. Petty utilize The Sixth Edition of AMA Guides to the Evaluation of Permanent Impairment for detailed calculations of impairment.
As is the case with all patients who treat at Joint Maneuvers Chiropractic Centre, P.A., Drs. Petty never hesitate to refer med-legal patients to the appropriate medical specialist for collaborative care when medical necessity exists. Collaborative care with medical specialists often include, but are not limited to:
Neurosurgeons
Orthopedic Surgeons
Neurologists
TMJ Specialists
Pain Management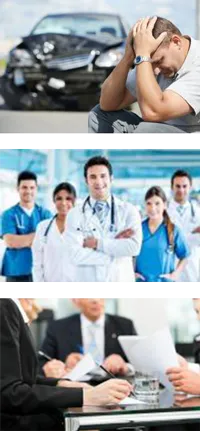 Clinical Studies are an important factor in the diagnosis and treatment of injuries resulting from physical trauma such as motor vehicle collisions. Drs. Petty utilize recent post-injury clinical studies, such as XRay studies and/or CT Scans, when available such as those taken at a hospital, imaging center, or medical facility. If clinical studies have not previously been performed, or if there is medical necessity for advanced clinical studies, such as MRI, Drs. Petty always utilize imaging centers. All clinical studies ordered by Drs. Petty are read by radiologists who also have training in evaluation and diagnosis of acute traumatic injury.
Management of med-legal care begins on day one with the history intake. Drs. Petty ask personal injury patients detailed questions to determine the occupant kinematics and biomechanics involved in their crash. Mild Traumatic Brain Injury (MTBI) is always a concern when dealing with injuries from motor vehicle collisions and Drs. Petty evaluate for signs of MTBI in order to get patients with MTBI the neurological care they need.
Drs. Petty also perform risk factor analysis based on peer-reviewed scientific literature of crash testing, motor vehicle collisions, biomechanics, and occupant kinematics to help determine long-term prognosis. Risk factor analysis is unique to each patient.
Many cases of late whiplash (chronic) neck or shoulder pain or severe recurring headaches have their origin in a crash that, often unknowingly to the sufferer, was initiated by a cervical acceleration/deceleration (CAD) injury, often referred to as a whiplash injury, which is a significant injury to their neck.
Following a whiplash injury, there will usually be a certain amount of neck soreness and stiffness as the muscles contract in their attempt to pull the head and spine back into alignment. Thinking that it will "just take time for it to go away" can be a very painful mistake for the future. Anyone sustaining whiplash injury should have his or her spine checked. The sooner the better! Call (407) 498-0222 for an appointment today.